Here are the procedures for online enrollment:
For
new student

or

applicant

:
Create an account at the MIS parent portal (one (1) account per family). You can use this account to track your children's application status. This will also be used for submitting entrance credentials and proof of payments and for viewing of subsequent billing statements throughout the school year.

After creating your account, you will be redirected to the SUBMIT APPLICATION page. Click on the SUBMIT APPLICATION button.

Fill up all the required fields then click SUBMIT.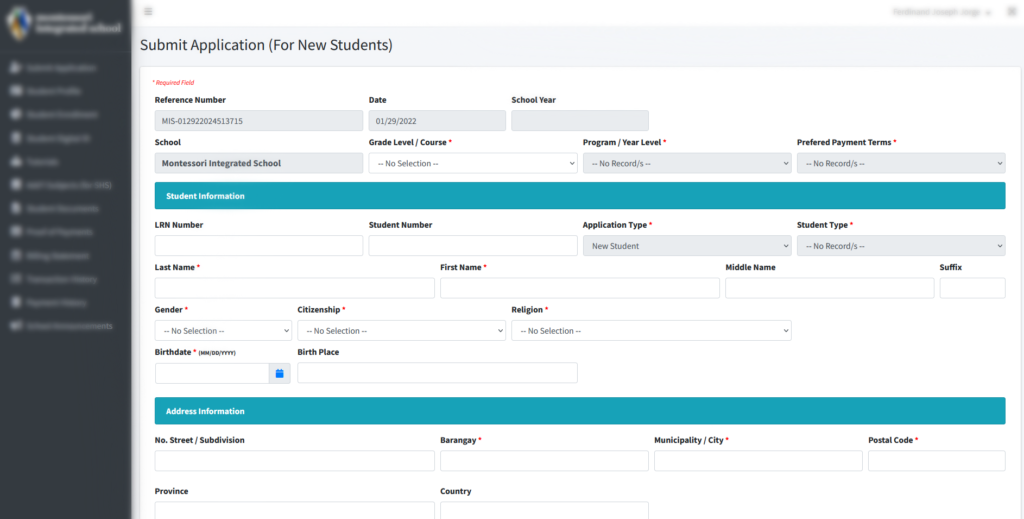 As a new student or applicant, you can upload requirements and proof of payments in the SUBMIT APPLICATION page.

For
existing

MIS Students:
Click the Log In to MIS Parent Portal button

Input your username and password then click Sign In button.

Proceed to STUDENT ENROLLMENT page. Then select your student from the dropdown and click on the ENROLL NOW button.

Fill up the required fields then click SUBMIT. You can check the status of your enrollment on the STUDENT ENROLLMENT page.

You can upload additional documents or requirements at the STUDENT DOCUMENT page.

You can upload a copy of your Payment receipt in the PROOF OF PAYMENTS page.

For current and newly enrolled students, wait for email from the digital classroom manager regarding registration.
Await login details to the digital classroom.
Finally expect an email and announcement in the MIS parent portal inviting you to the parent orientation before the opening of classes.